Heather Emily Colleen Harzke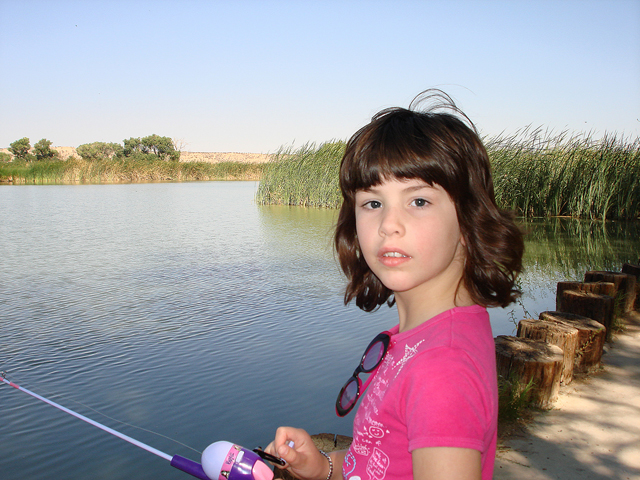 Luckily she only threw the rod in the water once. :)
To send Heather an e-mail use the icon at the bottom of this page
---
1/2/08
WOW!! It's been a looooong time since I updated
this page. I just measured her and she's 4 feet 2
inches tall. The picture above is from Victorville
Narrows park. We went there on mom's vacation
in '07. The only thing we really caught was
Heather's pole.
---
2/7/03
Weighed 27 lbs 8 oz
---
3/20/02
Weighed 21 lbs 4 oz
and 31"
---
12/7/01
She has another tooth
coming in! That makes
five so far.
---
12/3/01
Weighed 19 lbs 8 oz
and 28 1/2"
---
10/16/01
Fourth tooth coming in.
Top, front, right.
Went in for shots
Weighed 17 lbs 3 oz
and 27"
---
10/13/01
Third Tooth coming in.
Top, front, left.
At this rate, she'll be eating
corn on the cob by Christmas!!!
---
10/1/01
A second tooth has come
through. Just to the right
of the first. She STILL
won't let me take a picture
of it.
---
9/27/01
She's so quick!!
Today she pulled herself
up in her playpen and
stood up all by herself.
---
9/22/01
While we were at a Tom and Sharon King's
house, Heather sat up by herself AND crawled
by herself. All in the same day.
---
8/30/01
Heather got her first tooth!
Bottom front left.
See pics when it gets a little bigger!
Sorry we don't have a pic of it but
she won't let us take one!!!
---
8/14/01
Went in for shots
Weighed 15 lbs 6 oz
and 25 1/4"


---
8/4/01
Heather's doing very well with sitting
up and rolling over. She likes to lay
on her quilt that Larry and Jill sent her,
and play with her toys and her toes.
She likes apples, pears, bananas and
rice cereal, but doesn't care too much
for carrots. She likes to eat solid food
for breakfast and dinner and gets VERY
cranky when she doesn't get it!!
---
6/26/01
Checked for Thrush
Weighed 13 lbs 4 1/2 oz
and 24 1/2"
---
4/20/01
Checked for constipation and eyes
Weighed 10 lbs 11 oz
and 22"
---
4/13/01
Checked for eye infection
Weighed 10 lbs 2oz
and 21"
---
4/11/01
Eyes were still red from fast delivery
Weighed 9 lbs 15 oz
almost 21"
---
Born on Thursday 3/29/01
at 12:41PM
weighed 9 lbs 4 oz
and 20 3/4"